4 Things You Should Know for Bulk Trash Pickup
Preparing for Bulk Trash Pickup Doesn't Have to be Hard
Don't know if or when the city or county will pick up your bulk trash? Tired of having to schedule weeks or months in advance? Keep reading because we have a solution for you!
This means you've probably got a heap of junk on your hands right now, and the last thing you need while you're stuck inside is a home or yard full of trash.
If you find yourself dealing with a growing heap of junk, try our services! At The Junk Pirates, we make bulk trash removal easy and convenient for you.
Want to know more about the services we offer? Here are some things that you should keep in mind when deciding which bulk trash pickup company you want to hire.
1.  You Don't Need to do Anything
Don't have a dumpster big enough for your trash? Is your junk too heavy to transport to your curb? Don't worry—we pick up trash where it sits.
For us, safety is critical. This means you don't need to spend time waiting for us to arrive and supervise bulk trash removal from where it sits.
We understand and adhere to the social distancing and COVID protocols. You can trust that we'll get the job done right without ever putting you at risk.
2.  Your Bulk Trash is Never Too Big 
Wondering if your junk items are too big for pickup? Let all your worries go—no matter what you're looking to unload, we're willing to make it disappear for you!
Loveseats? Sofas? Mattresses? Hot tubs? Office appliances? A pile of rusty pipes and steel?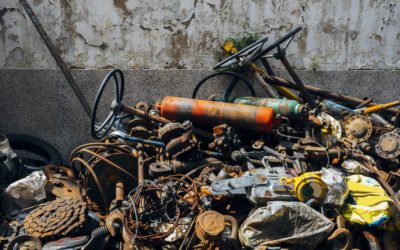 Make us your first port of call, no matter what you're looking to get rid of.
Did you know that most junk removal companies won't remove anything that needs more than two people to carry? That's because they're not strong pirates, like we are!
Our junk removal services includes a forklift for the heavy lifting. We can comfortably help you get rid of all your junk no matter how heavy it may be.
3.  We're Certified Hazardous Waste Technicians
Usually, if you're looking to get rid of hazardous waste, you need to hire a specialized company. With The Junk Pirates, you get both regular junk removal services and hazardous waste removal services in a single business.
This makes the entire process so much more convenient for you. All you need to do is ensure that your hazardous waste is placed apart from the rest of your waste, and we'll handle the rest! When we say we take care of all your bulk trash pickup needs, we mean it!
4.  We Make Bulk Trash Pick Up Easy
When you call us, you don't need to wait for weeks before your trash is picked up, or wonder if the city plans on removing the trash.
You can be sure that all that junk you want to get rid of will be picked up speedily by contacting us. We are likely to be able to provide you with same-day pickups. If same-day removal is not possible, we can guarantee we'll pick it up as soon as possible.
This means that no matter what you want to get rid of, The Junk Pirates are the right choice for you. Our bulk trash pickup services are second to none.
Final Thoughts
So what are you waiting for? If you've been wondering how to get rid of that buildup of junk, call us today at (417) 815-5865. That's really all you need to do!