Uncovering the Truth About Mattress Disposal
How to Make Sure Mattress Disposal is Done Right
Do you really know what happens to your old mattress when it's picked up by a junk removal company?
Many cities and states are trying to find ways to minimize trash as landfill spaces start dwindling.
Mattresses may cause problems once they are thrown in our landfills:
They are made from materials that are usually not biodegradable, so they spend decades taking up space
Heavy-duty frames can damage expensive equipment
There are harmful chemicals found in mattress materials that may leach into soil and groundwater
This makes proper mattress disposal vital if we want to help the planet.
Mattresses Can Be Recycled
There are over 50 mattress recycling facilities in North America. These facilities are growing due to the scope of the problem with waste disposal.
Make sure you choose a junk removal company like The Junk Pirates that can recycle your mattress and not haul your stuff and throw it into a landfill.
Old mattresses can be recycled by taking apart the beds' components and reusing them in other applications.
Take note that recycling is different from refurbishing or reupholstering for reselling.
Most materials in mattresses can be repurposed, so you need to choose the right junk removal company.
Metal from coils and springs can be melted and made into new items
Foams can be shredded and used as carpet padding, pads or as a fuel source
Fabrics and upholstery can be used for other items
Cotton and other fibers can be used as filters, insulation or burned for fuel
Wood can be burned for fuel or chipped for mulch
How Mattress Recycling Works?
Once we pick up your unwanted mattress, we drop it off at a nearby recycling facility where it will spend time being repurposed for future use. And just so you know, there is an extra fifteen dollar charge to take it to the facility due to the fees involved.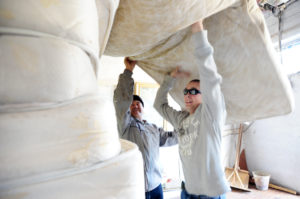 Before recycling, the mattresses are inspected for bed bugs. If a mattress is infested, they are taken out to be destroyed since bed bugs are harmful.
Wet mattresses are left in an area to dry out, while those that are sorted for recycling are now dismantled for useful parts.
Where Do Junk Haulers Take Your Old Mattress?
As we mentioned before, not all mattress disposal companies or junk haulers recycle your mattress.
If your junk hauler is a small operation with limited resources, you can expect your mattress to be delivered straight to the landfill.
A good indication that your mattress disposal company will recycle your mattress is the cost of pickup.
The cost will be higher if they are recycling or your mattress due to the fees involved. As a result, we charge an additional fifteen dollars for mattress recycling. If the mattress is being donated, there is no additional fee.
A junk removal company that uses sound disposal methods will recycle your mattress or donate usable materials to charities all over the country.
A trusted and reliable junk removal company helps recycle or donate, which keeps millions of junk away from our crowded landfills.
Keep this in mind when you are planning to dispose of your old mattress. Take part in conserving our natural resources and clean up our environment.