What to Do About Hazardous Waste Disposal
Why Hire a Junk Removal Company for Hazardous Waste Disposal?
You will be amazed of the hazardous waste laying around your home and office. Do you know what to do about it?
For homes with children and pets, you should read further because these materials can threaten your kids and animals when left around the house.
Let's look at the harmful products found in your home and ways of handling, reducing, and disposing of them.
What is Hazardous Waste in Your Home?
HHW or Household Hazardous Waste is any product or chemical that can threaten the environment or cause serious illness if improperly stored or disposed of. Products labeled dangerous, poison, flammable, combustible, and corrosive are considered hazardous waste.
Examples of Household Hazardous Waste
Car batteries
Motor Oils/Filters
Antifreeze
Tires
Brake Fluid
Pesticides
Fertilizer
Lighter Fluid
Pool Chemicals
Non-Alkaline batteries
Aerosol Cans
Cleaners
Furniture polish
Fluorescent bulbs
Nail Polish
Propane
Needles/Syringes
Paint
Solvents
Paint Remover
Prescription Drugs
Kerosene
Herbicides
Insecticides
Tips for Safe Handling of Household Hazardous Waste
Read and follow instructions on product labels to prevent any accidents at home.
Follow disposal directions to lower the risk of products leaking, exploding, igniting, mixing with other chemicals, or posing dangers on the way to disposal.
Avoid storing hazardous products in food containers. Always keep them in their original packaging without removing labels.
Never mix HHW leftovers with other products since incompatible products may react, ignite, or explode.
Empty containers need to be disposed of properly since they contain residual chemicals that are harmful to you.
How to Reduce HHW in Your Home
You can reduce HHWs in your home by purchasing products that are green or environmentally friendly. Natural products are good alternatives to chemical products, and you can even whip up a recipe on your own.
Many everyday household items have all-natural and safe ingredients, including household cleaners, toilet cleaners, bug sprays, pest control, dishwashing liquids, and laundry detergents.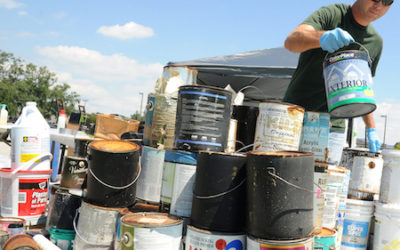 The Dangers of Household Hazardous Waste
If you dispose hazardous waste in the trash, our water and soils can be harmed, or trash collectors can be contaminated on the ground or down the toilet.
You need to keep these products out of drains, storm sewers, and the ground.
Let the Professionals Handle your Hazardous Waste Disposal
To avoid the potential risks of household hazardous waste, you should monitor the use, storage, and disposal of products with harmful substances in your home.
The Junk Pirates has extensive experience in managing these materials responsibly and can remove them for you. We provide household hazardous waste disposal services in your area.
We have helped many households dispose of their hazardous waste safely and correctly.
Improper disposal of HHWs is illegal. Leave the proper disposal to the professionals. Our professional HHW removal technicians are highly trained to perform the job.
Stay safe when disposing of potentially dangerous items by giving us a call today or sending us a message on our website.
Let us keep you safe from ALL household hazardous waste effectively, efficiently, and responsibly.